This post contains affiliate links. Read my affiliate disclosure here.
—
While my first love is cookies, I also enjoy decorating a cupcake with a simple 1M swirl every once in a while. I've posted this buttercream recipe on my blog
before
, but this time I made a video to go along with it. This tutorial is a collaboration with Lainey of
Simply Bakings
. Her
YouTube channel
has lots of baking tutorials and recipes, including a
chocolate cupcake recipe
that goes perfectly with this vanilla bean buttercream.
—
This buttercream is made using a Swiss meringue and it's super smooth and creamy. I sometimes get cravings for that powdered sugar/shortening icing that's on the cupcakes in the Starbucks cafe at Barnes and Noble, but this is not like that. If you're not familiar with Swiss meringue buttercream, you should know that it is not too sweet, but it is buttery (not much of a surprise there!), so it might not be suitable for everyone's taste. However, I've been told by one 6-1/2 year old (and we all know that 6-1/2 year olds are the most honest people on the planet when it comes to their opinions on food) that it tastes like ice cream. Best compliment ever! The recipe isn't too complicated and it only uses a few ingredients, so give it a try.
—
Vanilla Bean Buttercream Recipe 4 large egg whites (save those yolks for
bread pudding
!)
1 cup sugar
3 sticks (1-1/2 cups) unsalted butter, softened
1 pinch salt
1/2
Vanilla Bean
, scraped
If you're feeling adventurous, you can change up the flavorings. I like to add fresh orange zest sometimes, like I did
here
. Depending on how much icing you like on your cupcakes, you'll be able to ice 18-24 cupcakes with this recipe. You can double it to be safe. Then, if you have some leftover, you can just eat it with a spoon. Like ice cream 🙂 Watch this video to see how it's made:
A note about the temperature of the meringue: If you are concerned about egg safety, you can use pasteurized egg whites from a carton. I've seen in other recipes that the eggs are brought up to 160 degrees. I've never done this, but do whatever makes you the most comfortable.
Store the icing in the refrigerator until you're ready to use it. Before using the icing, let it come to room temperature and then re-whip it on the mixer to bring it back to life. After you've iced your cupcakes you can store them in the refrigerator. Allow them to come to room temperature before serving.
The gold star sprinkles that I used to decorate these cupcakes were given to me by a friend in Hong Kong. I found a similar product at
Cake Craft Shop
. You could also try these shimmering 
Gold Stars
from Wilton. Don't forget to visit
Simply Bakings
for her 
chocolate cupcake recipe
!
—
Click on the images below for more tutorials!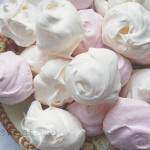 —